Earnings season is a fantastic time for equities traders to have a better understanding of the businesses they've invested in, as well as providing context for prospective share price swings. Read on to learn more about earnings season, when to expect earnings announcements, and what to look for in an earnings report.
WHY IS THE EARNINGS SEASON SO IMPORTANT?
Earnings season is a period during each fiscal quarter, usually lasting a few weeks, when many of the largest publicly traded corporations release their most recent financial statements. An earnings report includes information such as sales, net income, earnings per share (EPS), and forward forecast, among other things, that can assist investors understand the company's current health and outlook. Web site sec.gov, numerous financial magazines, and particular company websites all include this information.
Earnings season is significant because it allows market players to gather information from the companies they are tracking as well as the larger index.
Investors may be bullish on Nasdaq 100 futures after a strong Apple (AAPL) earnings report, for example, a topic covered further below when looking at bellwether stocks.
An earnings call is another option that can be used in conjunction with an earnings release. This is a meeting between the firm and analysts, the press, and investors to discuss the results of an earnings report and, in many circumstances, to take questions from the audience. Although not all firms host earnings calls, such analysis of the reports might provide traders with extra information to help them make better judgments.
WHEN DOES EARNINGS SEASON BEGIN AND WHEN DO REPORTS APPEAR?
Earnings season begins a few weeks following the end of each quarter (December, March, June, September). In other words, the official start of earnings season is traditionally defined by when the big US banks announce results in January-February (Q4 results), April-May (Q1 results), July-August (Q2 results), and October-November (Q3 results).
This is usually accompanied by a rise in the amount of results announcements, with the unofficial conclusion of earnings season falling around the time Walmart (WMT) releases its earnings report.
IN COMPANY EARNINGS REPORTS, THERE ARE 3 THINGS TO LOOK FOR
In company earnings reports, there are a lot of things to look for. Traders should pay close attention to the performance of the largest 'bellwether' stocks, appreciate the significance of an earnings recession in a particular stock, and comprehend how a stock's earnings announcement might effect a relevant index, depending on the weighting of the security.
1) Bellwether stock performance
When evaluating corporate profits, keep an eye out for 'bellwether' stocks, which can be used as a barometer for the economy's macro-success.
While the position of a bellwether stock might change over time, it is usually reserved for the largest and most well-known corporations.
The following are some examples of Bellwether stocks:
FedEx (FDX) is a company that transports things for customers and businesses all over the world.
Caterpillar (CAT): Due to its extensive exposure to the construction, manufacturing, and agricultural industries, notably in China, the world's largest heavy-duty machinery manufacturer has been seen as a bellwether.
3M (MMM Indicator) of the manufacturing sector's health
Apple (AAPL) is one of the world's most powerful corporations. Chipmakers, in particular, are important suppliers.
2) Recession in earnings
Two consecutive quarters of year-over-year falls in corporate profits define an earnings recession. While earnings are a significant impact in long-term stock market returns, an earnings slump does not always correspond with an economic downturn.
Only two of the past six earnings recessions in the United States have coincided with an economic downturn, as seen in the graph below. The blue circles reflect earnings recessions that did not coincide with economic recessions, while the red circles represent earnings and economic recessions.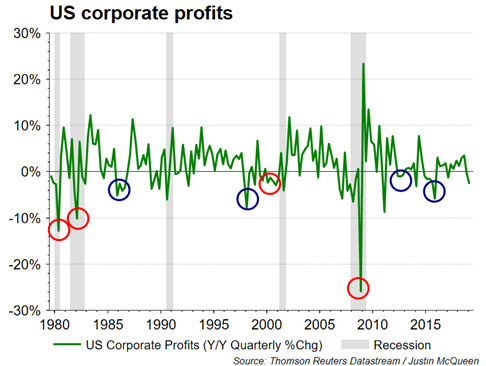 3) Earnings and the weighting of stock indexes
Traders should be aware that, due to their index weighting, certain stocks will have a higher impact on the overall index when trading earnings. For example, while trading the Dow Jones, Boeing's earnings will have a large impact on the index, whilst Visa's earnings will have a smaller impact, as seen in the table below, due to the former's 9.49 percent weighting vs the latter's 4.41 percent. This emphasizes the necessity of closely monitoring bellwether stocks and how they may affect a broader equity index.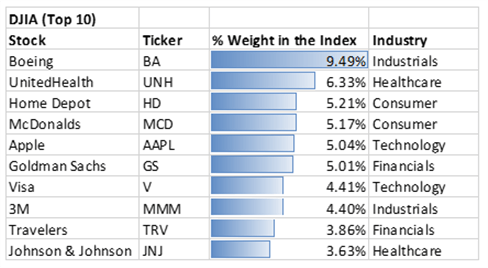 TOP TIPS FOR TRADING DURING EARNINGS SEASON
We have a comprehensive tutorial on how to trade earnings season, but here are some key points to keep in mind:
1) Be aware of the 'anticipated' outcomes.
It's crucial to understand what's 'anticipated' in terms of revenue/sales and earnings per share (EPS) because a company's share price reaction is typically decided by how much they beat or miss an aggregate of analysts' forecasts.
2) Be on the lookout for unexpected announcements.
Any unexpected statements made in conjunction with an earnings report might have an impact on a company's stock price. Stock buybacks and share repurchase programs, as well as company guidance, are examples of this.
3) Be aware of stock-to-stock spillover effects.
If an investor owns a chipmaker company (such as Dialog Semiconductor), profits from Apple could have a significant impact on the stock. As a result, it's critical to evaluate connected stocks because they can indicate a sector's outlook, potentially triggering a sector rotation.
4) Consider the impact of volatility on the predicted change.
Calculating a stock's 'anticipated move' on a directional basis in response to a binary earnings event can be a difficult task.
KEY TAKEAWAYS FOR INVESTORS AND STOCK TRADERS FROM THE EARNINGS SEASON
In conclusion, earnings season can have a significant impact on a trader's experience. Make sure you're up to date on when significant earnings for certain firms are released so you can plan beforehand. Be aware of how price changes are influenced by bellwether stocks, future earnings recessions, and stock index weightings. Keep track of what each stock's predicted results are, be aware of higher potential volatility for analytical or strategic reasons, and grasp how one stock's performance affects another's (or an index as a whole).
Following these essential pointers can assist a trader in attempting to weather earnings season and navigating the period with greater consistency.
QUESTIONS ABOUT EARNINGS SEASON
What can we learn about the global economy from earnings season?
The impact of earnings season on the global economy is determined by a multitude of factors, ranging from sector performance to fundamental factors. While meeting or exceeding expectations at bellwether businesses can indicate a healthy corporate environment, the stock market interacts with the economy in a variety of ways, so there isn't necessarily a predictable relationship between the two.
How can financial downturns affect earnings season?
Financial downturns can have a big impact on earnings season, as lowered demand for products and services induced by a downturn or longer recession can lead to results falling short of expectations in a variety of industries. However, equities in consumer staples and healthcare, which are seen as protective, may weather downturns easier and perhaps become more appealing in this environment.
Is earnings season the same in the United States and the United Kingdom?
When it comes to the earning seasons in the United States and the United Kingdom, the United Kingdom and Europe receive the most of their wages two to three weeks after the United States.
ADDITIONAL INFORMATION ON EQUITIES
Do you want to improve your equities knowledge? Check out our stock market articles for practical, easy-to-understand advice on examining the most prevalent capital market assets.