It was first renowned for the Black Friday stock market crash, then as the year's biggest shopping day. Although the meaning of Black Friday has changed over time, it is still a topic of interest in the stock market. Which retailers stand to gain the most? What can we learn from previous price movements? What elements aid you in trading the period? We'll have to wait and see. But first, a little history.
WHAT IS THE DEFINITION OF BLACK FRIDAY?
The name "Black Friday" was used to characterize the stock market crash of 1869, when American speculators Jay Gould and James Fisk attempted but failed to corner the gold market, causing a financial crisis.
The contemporary concept of Black Friday, on the other hand, emerged in the 1940s as a way to encourage people to shops the day after Thanksgiving. Black Friday got its name from its proclivity for causing traffic accidents, but it later took on a new connotation as businesses hoped to earn enough sales to put them 'in the black,' or prosperous, for the year.
However, it wasn't until the 1980s that businesses began to use the day as a marketing tool, with the day eventually becoming the most popular shopping day of the year in the 2000s. Black Friday is no longer only a US phenomenon; it has expanded to more than 20 nations, including Mexico, Russia, and Pakistan.
Some experts and market observers believe that the shopping period, which coincides with Cyber Monday, the Monday after Thanksgiving when internet purchases are pushed, provides a gauge of economic strength. The performance of other assets, such as stocks, may therefore be predicted using this metric.
BLACK FRIDAY AND ITS IMPACT
What is the total impact of Black Friday? Is it a marketing gimmick or a useful indicator? To respond, consider the impact on retail spending and customers, the economy, and the ensuing influence (if any) on traders and stock prices.
1) Consumers and retail expenditure
There's no denying that Black Friday has an impact on consumer spending. The event is touted as a once-in-a-lifetime opportunity to save money on a wide range of things, from laptops to lawnmowers, in a variety of countries, and past media coverage of the event has featured stampedes in retail establishments as bargain-hungry customers jostle for offers. According to Adobe Analytics, $6.22 billion was spent online in the United States in 2018, up 23.6 percent over the previous year. Furthermore, every Black Friday, with the exception of the first, has experienced larger retail sales volume than any other day.
2) Economic situation
The economic impact of Black Friday is more questionable.
Some think that the Keynesian effect of spending driving economic activity boosts the economy by putting more money into circulation. Consumer spending may be beneficial at a time when the US economy is showing indications of recession. Others, however, claim that the event had only a little impact, with only short-term consequences. This is partly owing to lessons learned from prior years, when many retailers experienced weak sales after the promotion ceased.
However, if retailers choose to take a different approach and extend reductions, profit margins may be compromised, potentially resulting in job losses and increasing unemployment.
Reduced income tax receipts and a higher welfare burden could be knock-on economic repercussions, raising the possibility of Black Friday having a net negative economic impact.
3) Stocks and stock exchanges
The impact of Black Friday on the stock market and individual stocks is extremely complicated. If sales predictions are met, a variety of retail stocks are predicted to gain, somewhat unexpectedly. Unexpectedly low sales, on the other hand, can indicate low consumer confidence and a frail underlying economy, providing traders cause to sell.
However, even if a company's sales have been high, this has no influence on its profitability or general financial health, which are important criteria for traders to consider when choosing one stock over another.
Examining the influence of prior Black Fridays on financial markets can provide insight into the types of trends that traders can anticipate to see in the future.
BLACK FRIDAY AND THE HISTORY OF THE STOCK MARKET
While Black Friday's origins may be traced back to the disastrous 1869 stock market crash, the modern version has seen retail stocks do well over the Black Friday timeframe.
This may be seen in the S&P 500 index. Bloomberg data reveals a 5% return for retail equities over a ten-year period, compared to an average 3 percent return from one week before Black Friday to one week after.
On the S&P 500 chart below, the Black Friday periods 2014-2018 are circled. While this data implies that retail stocks will perform well over the next few years, stock pickers should be cognizant of the differences between retail sub-sectors, the potential of online sales displacing more brick-and-mortar based stocks, and other fundamental issues that might change the market.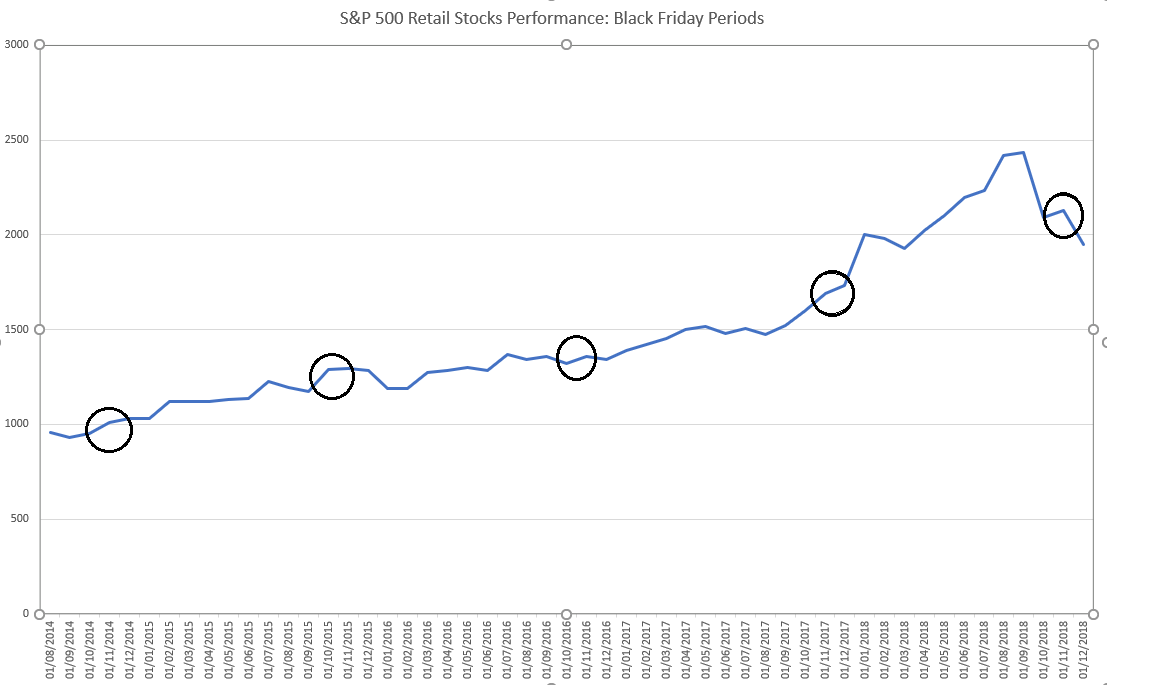 A SNAPSHOT OF RETAIL STOCK PERFORMANCE ON BLACK FRIDAY
When it comes to Black Friday retail stock performance, here's a look at how 15 key global retail stocks fared in 2018 from one week before to one week after the holiday:
| | | | |
| --- | --- | --- | --- |
| . | CLOSING STOCK PRICE: NOV 16 2018 ($) | CLOSING STOCK PRICE: NOV 30 2018 ($) | PERCENTAGE INCREASE/DECREASE |
| | | | |
| Amazon | 1,502.06 | 1,690.17 | 11 |
| Apple | 193.53 | 178.58 | -8 |
| Best Buy | 66.43 | 64.59 | -3 |
| Burlington Stores | 161.75 | 165.76 | 2 |
| Costco | 231.02 | 231.28 | |
| CVS | 79.33 | 80.2 | |
| H&M | 3.49 | 3.63 | 4 |
| Home Depot | 177.02 | 180.32 | 2 |
| Lowe's | 93.25 | 94.37 | 1 |
| Sainsbury's | 15.9 | 15.6 | -2 |
| Target | 79.68 | 70.96 | -12 |
| Tesco | 7.82 | 7.51 | -4 |
| TJX | 51.49 | 48.85 | -5 |
| Walgreens | 82.52 | 84.67 | 3 |
| Walmart | 97.69 | 97.65 | |
Amazon had a banner year in 2018, with Cyber Monday becoming its busiest shopping day ever. According to Bloomberg data, customers ordered more than 18 million toys and 13 million fashion goods on Black Friday and Cyber Monday combined, and the company's stock rose 11 percent over the two-week period from November 16 to November 30, as seen in the table.
On the short side, while Target shares fell 12% over the same time period, the drop is likely due to a broader stock market decline triggered by trade disputes and fears about global growth more than any other factors. This emphasizes the need of traders evaluating a variety of basic factors that can influence market movements throughout the holiday season.
IMPORTANT THOUGHTS TO CONSIDER WHEN TRADING STOCKS ON BLACK FRIDAY
When traders examine the market and get a sense of which retailers are leading in Black Friday sales, there are a number of other factors to consider when trading equities during this time.
Liquidity in the stock market may be severely distorted around the holidays, and Black Friday is no exception. With fewer traders on the floor, liquidity dries up, increasing the risk of greater swings – especially since stop losses are triggered automatically and positions are abandoned.
Factors that are essential: These may provide insight into consumer spending patterns, allowing traders to analyze retail stocks. Lower gasoline costs and high employment data, for example, could indicate that consumers have more spending capacity and that company sales objectives are being reached. However, as previously said, there are a variety of other factors that might influence the market and overwhelm any movements produced by consumer mood.
Online vs. brick-and-mortar sales: In recent years, brick-and-mortar businesses have lost ground to online competitors, and Cyber Monday is threatening to overtake Black Friday in terms of total sales. To take advantage of this, keep a watch on stocks like Amazon and Best Buy, which frequently offer appealing online shopping bargains around the holidays.
Earnings are typically not reported until January: Traders should be aware that corporate performance may not be totally obvious until earnings, which are typically released in January for many corporations.
ON BLACK FRIDAY, WHEN DOES THE STOCK MARKET CLOSE?
The stock market opens at 9:30 a.m. ET on Black Friday, as is customary, but closes at 1 p.m. ET. The market will be closed for the entire Thanksgiving holiday.