Copper is a global commodity that has several key industrial uses and is closely linked to economic growth.
Copper trading is often used by hedgers and speculators as a defense or exploitation of future price movements. Both individuals and organizations can gain access to the copper and copper trade, making the metal popular in the spectrum of commodity trading.
Why is it worth trading copper and how does it work?
One of the benefits of trading copper is affordability. Copper is traded in a variety of ways such as futures, options, stocks, and CFDs. You can also access copper through copper ETFs (Exchange Traded Funds) such as CPER (US Copper Index Fund) or JJCB (Bloomberg Copper Copper Copper Subindex iPath Series B Total Income ETN).
Copper is a soft malleable metal with properties similar to gold and silver. The greatest demand for it falls on the construction of buildings, transport equipment and electronics. It is a strong conductor of electricity and heat and therefore has a wide range of industrial uses, which also leads to high trading volumes, which is good for traders as it can lead to tighter spreads and potentially cleaner chart patterns.
Copper price movements are highly dependent on demand from emerging market economies such as China and India. During periods of economic growth, these countries require large quantities of copper, the demand for which leads to higher prices for the metal. On the other hand, during economic downturns, the demand for copper falls, as does the price. Traders need to keep this dynamic in mind when trading copper.
Many copper traders use technical and / or fundamental analysis to inform their trading strategy, which helps the trader to predict whether the price of copper will rise or fall. Once a trader is confident in his prediction, he can buy or sell copper in an attempt to profit from the price movement. Thus, a trading strategy can also help a trader manage their risk, identify buy and sell signals in the market, and set reasonable take profit and stop loss levels in order to obtain a positive risk / reward ratio.
Copper is listed on CME Globex and CME ClearPort:
Sunday – Friday 18:00 – 17:00. (5:00 pm – 4:00 pm Chicago / Connecticut time) with a 60-minute break each day starting at 5:00 pm. (16:00 CET)
Factors affecting prices
U.S. dollar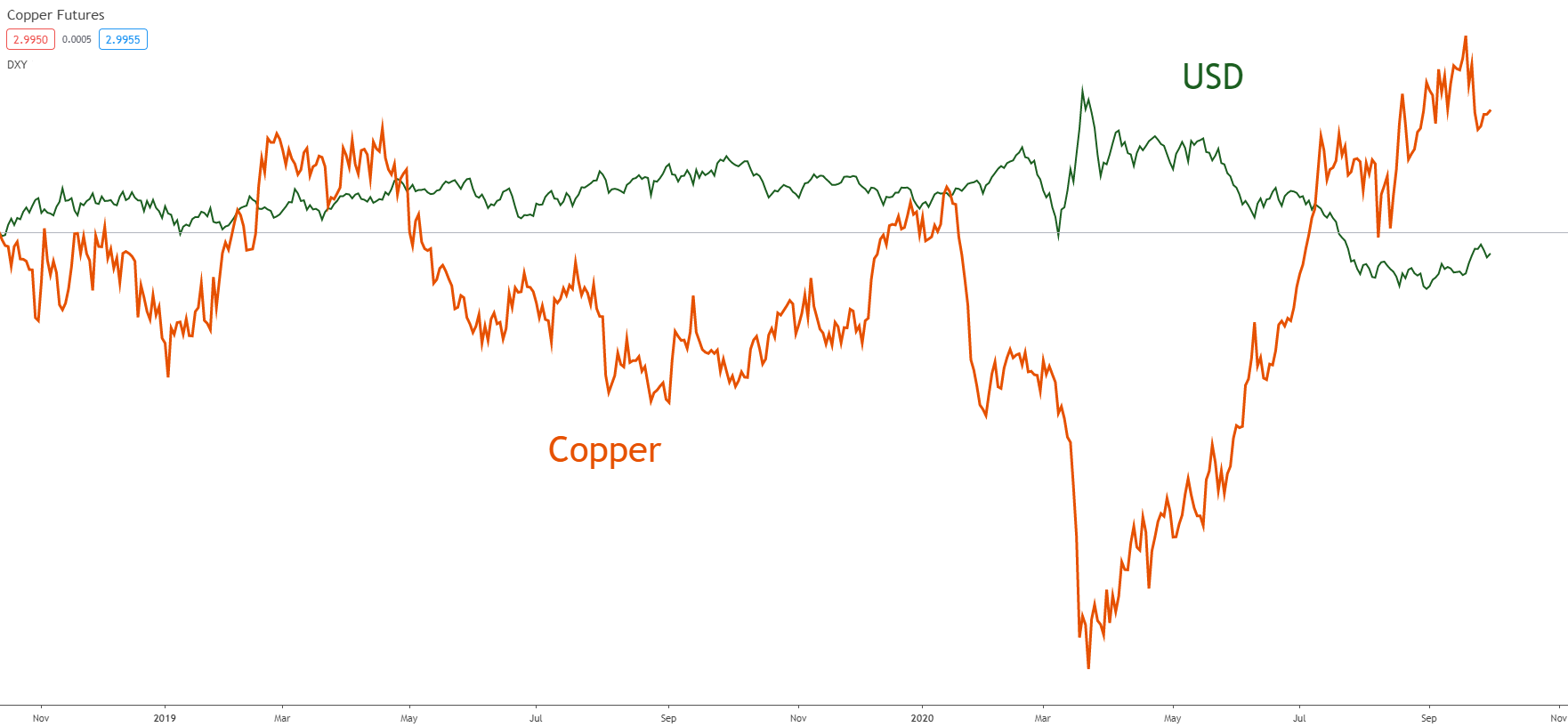 Like many other metals, copper is inversely correlated (see chart below) with the US dollar, which means that when the US dollar depreciates, copper prices usually rise, and vice versa. It is important to note that this relationship is not one-to-one (delta 1), but has a high degree of correlation.
The reason the US dollar affects copper is that the price of copper is denominated in US dollars. For example, when the dollar falls, the buyer will have to pay less of their local currency in order to buy a certain amount of copper. Consequently, the commodity (copper) becomes cheaper to buy. This leads to an increase in demand and, ultimately, to an increase in the cost of copper.
Oil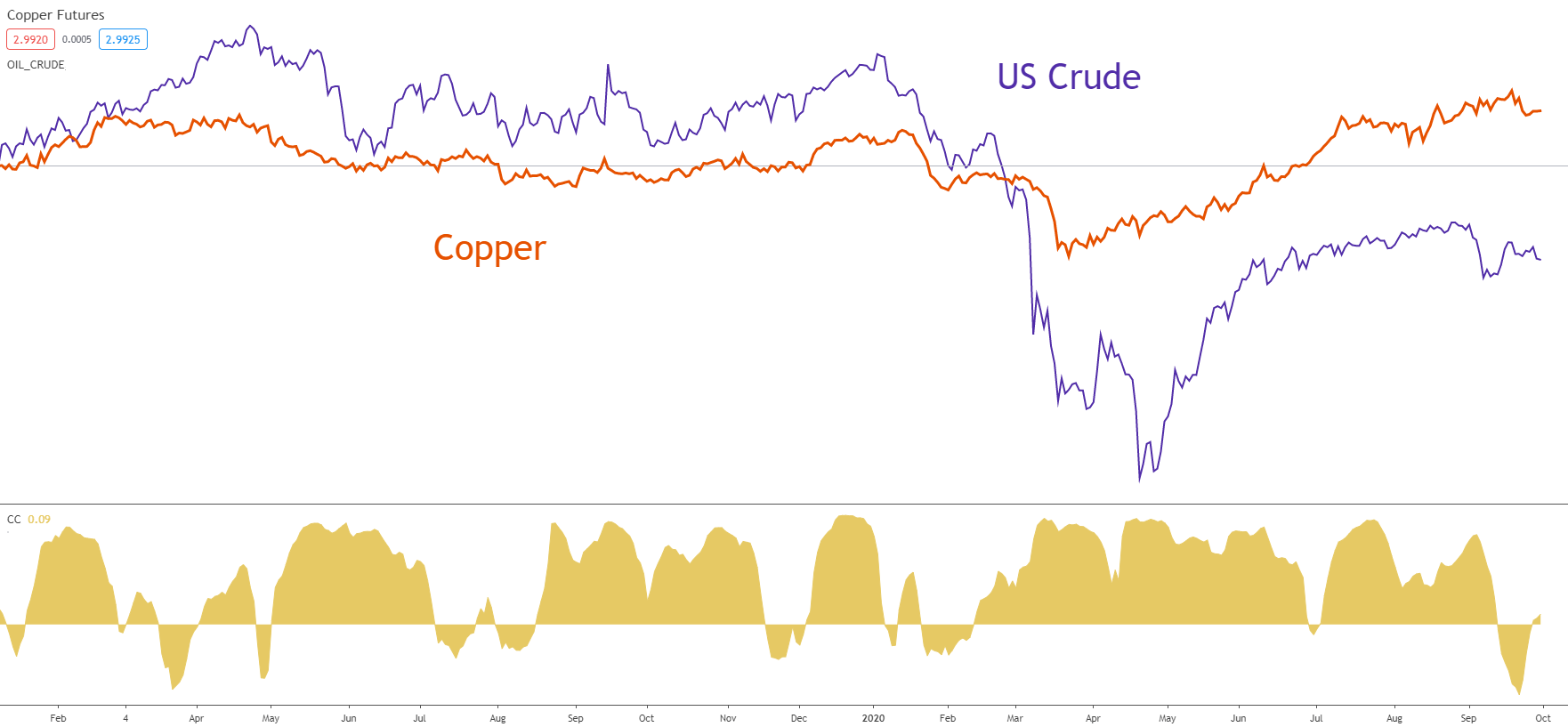 Refining copper involves melting the metal to remove impurities. This process is extremely energy intensive and accounts for a large portion of the total cost. Oil prices tend to follow the same trajectory as copper (see chart below). That said, oil prices are influenced by many of the same factors as copper, which can support the traditional positive relationship. Regardless of the specifics, it is clear that there is a relationship between copper and oil that can provide valuable insights into the copper market. The popularity of renewable energy sources is growing, which could disrupt the historical dynamics of copper and oil prices.
Copper as a Barometer of Global Growth
Copper is often associated with industrial growth and therefore with overall economic growth. Infrastructure, manufacturing and construction are now playing a huge role in economic growth, which relies heavily on copper. Consumption (demand) for copper tends to be reflected in the price of copper, since an increase in demand is usually accompanied by an increase in the price of copper and vice versa. Copper is widely regarded as the king of non-ferrous metals, as it is the most widely used metal in developing and advanced economies.
The general economic aspects of supply and demand are considered, which can be used as a rule of thumb when trading copper:
Increase in supply ↔ Decrease in demand
Decreased supply ↔ Increased demand
China has the main influence on copper supply / demand. China is the world's largest copper buyer. Although China has its own mines, demand from China requires additional supplies that come from other major copper producing countries. This is why the Chinese economy is such an important factor to consider when trading copper. If China continues to grow, strong copper demand can be expected (see chart below). It is important to note that China is determined to become self-sufficient in the long term, which could disrupt future supply / demand dynamics.
Positive correlation indicator on Copper chart and FTSE China A50: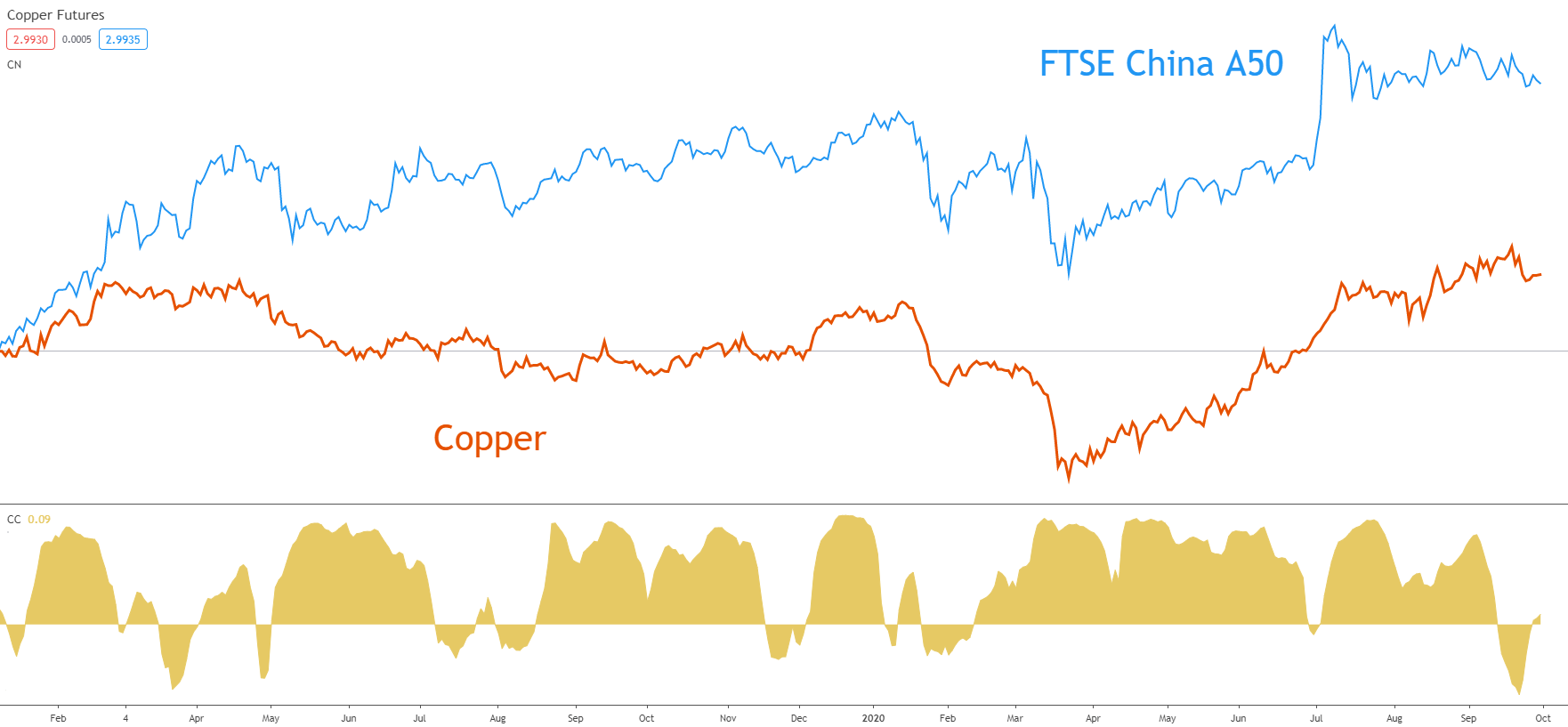 Copper supply and production costs
Copper mining is mainly concentrated in South America, which can have a large impact on copper prices. Lack of supply, quality of copper and fluctuations in production costs can all affect the price. This leads to country-specific risk that can influence the supply due to political instability or job-related problems.
In mid-2018, Chilean (the world's largest copper producer) coppersmiths said they would go on strike if their demands for higher wages were not met. This resulted in significant manipulation of copper prices as a threat of supply shortages could emerge, which at the time led to a spike to multi-year highs (see chart below).
Copper price reaction to the strike in Chile: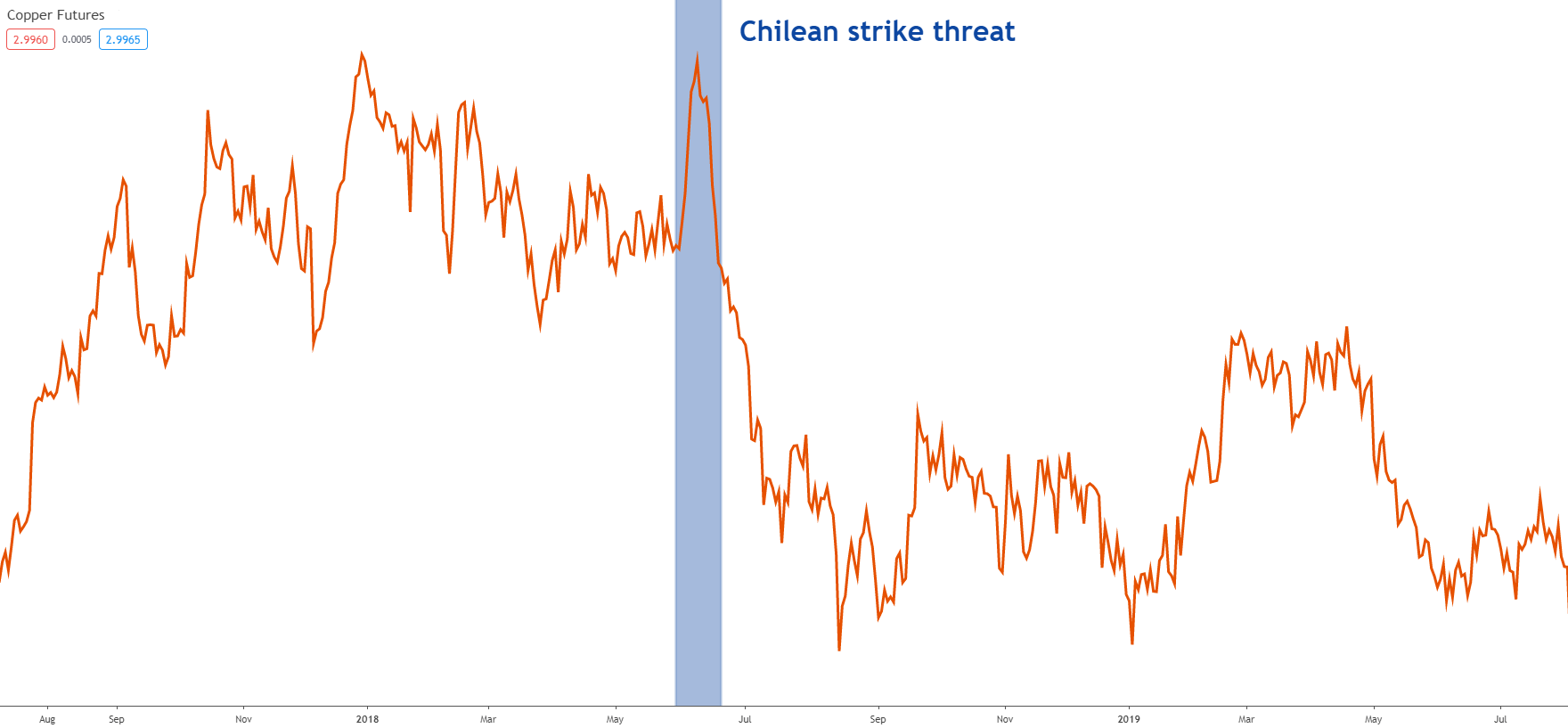 COPPER AS AN INVESTMENT
Copper has historically been considered a commodity without many investment benefits. Most of the copper transactions were carried out as a hedge against future price fluctuations in order to fix a certain price. This has changed over the past few decades as speculative traders have increased their influence on copper prices. Large institutions and hedge funds have increased their share of copper as an investment, which is highly correlated with economic growth. For example, a growth-minded fund manager may also be optimistic about copper. There can be some cyclicality in this, and it can be a good tool for diversification from traditional alternatives.
COPPER TRADING: STRATEGIES
Copper's versatility and dependence on various fundamental factors create a diverse combination of trading strategies. Trading strategies can be purely technical, fundamental, or a combination of both. Understanding how technical and fundamental components work both individually and in unison with each other can lead to an overarching copper trading strategy.
An example of a technical strategy:
The example below uses several technical analysis techniques to make a trading decision. It is important to note that this is just one of the various approaches that can be implemented in a technical strategy.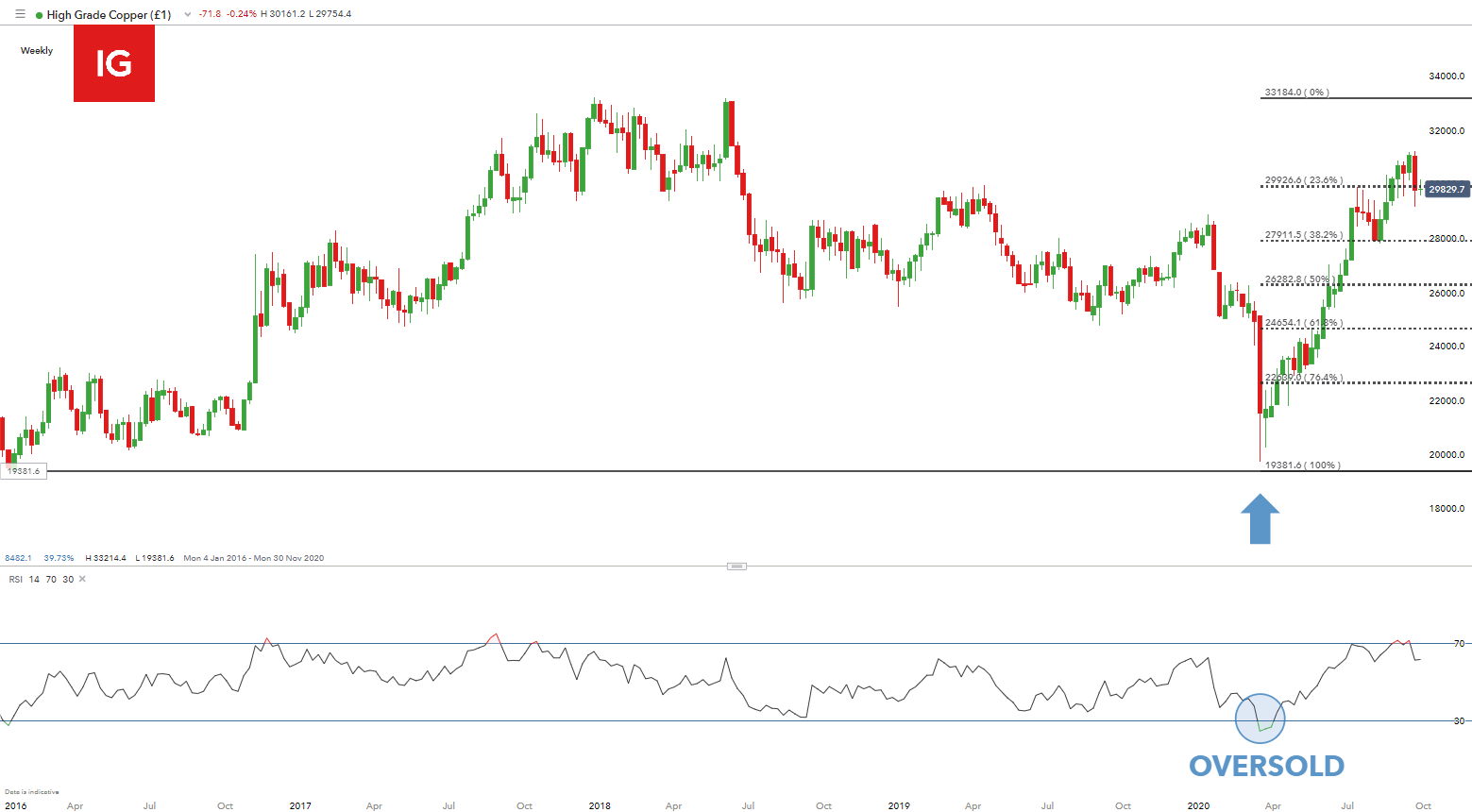 The above weekly chart for copper uses price action, support and resistance, and a technical indicator to determine a possible copper setup. The Fibonacci retracement chart is taken from the January 2016 low to the June 2018 high. This pattern has resulted in several support and resistance zones. It is clear that some of these areas are confluence areas that price adheres to / respects.
The low of $ 1.93 / pound (black) was a significant support level as the price approached in March 2020. Technically speaking, when the price was approaching the 2016 low, the propensity would be to buy if the price did not break the $ 1.93 support zone.
The Relative Strength Index (RSI) confirmed this rationale with an oversold signal below 30 (blue). The combination of these two simple techniques provided a stronger motivation to go long. In this case, the long trade would be successful as the price reversed in the current medium-term uptrend.
An example of a fundamental strategy:
Understanding the fundamental levers involved in copper trading will enable you to use appropriate trading strategies. The daily chart above shows the impact of the global COVID-19 pandemic and its impact on copper.
Returning to the factors affecting copper, it is well known that copper is highly correlated (positively) with economic growth. Hence, a breakdown in economic growth should theoretically disrupt the intricacies of supply and demand. Given the global pandemic that erupted in early 2020, it is prudent to predict a slowdown in economic growth as the virus spreads around the world.
As expected, copper was followed by a slowdown in economic growth. From January 2020 to mid-March 2020, copper prices fell by about 30% due to the COVID-19 pandemic. This is one such scenario in which understanding the dynamics of copper trading fundamentals can lead to prudent decision making.
An example of a fundamental and technical strategy:
Using both fundamental and technical analysis in a trading strategy takes more time, but this extra effort can lead to a better model as it includes more inputs. In early 2019, copper prices traded at their lowest level in a year and a half due to trade tensions between the US and China, as well as declining imports from China. However, as trade tensions eased, supported by a weaker US dollar, copper prices rose over the next few months.
Managing these complexities from a trading perspective can start with a basic technical setup, starting with a simple Fibonacci retracement. The Fibonacci chart above was taken from the January 2016 low to the June 2018 high as used in the previous technical example. Using Fibonacci alone shows that the 50% zone of $ 2.62 per pound is a key support area in early January. At the moment, there is no deviation from direction as it hovers around this support zone.
This is where fundamentals play an important role in copper trading. Market participants who follow macroeconomic events such as trade negotiations between the US and China will be aware of the decline in volatility and intensity around the topic as it fades away. With this knowledge, coupled with the declining US dollar, copper prices are more likely to rise in the near future. With prices in line with the 50% Fibonacci level of $ 2.62 per pound and an optimistic macro environment, a copper trader could try to open a long position from this support zone in anticipation of an upward price movement.
Stop losses could have been placed at the recent swing low around the $ 2.54-2.56 support zone (black) for risk-seeking traders, or at the 50% level of $ 2.62 for risk averse traders. Risk management is key to any strategy and must be applied consistently and appropriately to ensure that you trade wisely.
The next resistance level would be the 38.2% Fibonacci level, $ 2.79 per pound, where traders can seek to exit long positions and look for possible reversals or continuation of an already strong bullish move. In this case, the moving average (MA) indicator was useful as the 50-day MA (red) crossed the 100-day MA (black), indicating a bullish price movement. This transition came about in mid-January 2019, and copper prices continued to rise amid sustained favorable macroeconomic conditions. Additional inputs such as bullish moving average crossovers can give traders the information they need to select a targeted trade.
SUMMARY
Copper has developed into a well-diversified metal and can now be seen as an investment opportunity. An astute interpretation of copper technical and fundamentals can put market participants in an advantageous position to exploit price movements. These broad influences on copper can be difficult to understand, but greater exposure and awareness should provide greater clarity.