Human error in the forex market is common and often leads to familiar trading mistakes. These trading mistakes are often encountered by novice traders.
Although all traders make trading mistakes regardless of experience, understanding the logic behind these mistakes can limit the snowballing effect of trading obstacles.
ERROR 1: LACK OF TRADING PLAN
Traders who do not have a trading plan tend to act haphazardly due to inconsistent strategy. Trading strategies have predefined guidelines and approaches for every trade. This prevents traders from making irrational decisions due to adverse movements.
Commitment to a trading strategy is key because deviations from the course can leave traders in uncharted territory in terms of trading style. This ultimately leads to trading errors due to ignorance. Trading strategies should be tested on a demo account. Once traders get comfortable and understand the strategy, it can be transferred to a live account.
ERROR 2: OVERLOAD
Margin / Leverage is the use of borrowed money to open foreign exchange positions. While this feature requires less personal capital per trade, the potential for increased losses is real. Using leverage increases your profits and losses, so managing your leverage is key.
Brokers play an important role in protecting their clients. Many brokers offer unnecessarily large leverage levels, such as 1000: 1, which exposes novice and experienced traders to significant risk. Regulated brokers will limit leverage to appropriate levels based on the requirements of financial regulators. This should be considered when choosing the right broker.
ERROR 3: LACK OF TIME HORIZON
Time investment works hand-in-hand with an executable trading strategy. Each trading approach will adapt to different time horizons, so understanding the strategy will lead to measuring the estimated time frames used for each trade.
For example, the scalper will target shorter timeframes, while positional traders prefer longer timeframes.
ERROR 4: MINIMUM RESEARCH
Forex traders are required to invest in appropriate research in order to use and implement a particular trading strategy. Studying the market as it should be will reveal market trends, times of entry/exit points, as well as fundamental factors. The more time devoted to the market, the better the product itself is understood. In the forex market, there are subtle nuances between different pairs and how they work. These differences require careful study in order to succeed in your chosen market.
Reaction to the media and unsubstantiated advice should be avoided without reviewing the applied strategy and analysis. This is a common thing for traders. This does not mean that these tips and press releases should not be considered, but should be systematically researched before acting on the information.
ERROR 5: LOW RISK/REWARD RATIO
Positive risk-to-reward ratios are often overlooked by traders, which can lead to poor risk management. A positive risk/reward ratio, such as 1: 2, means that the potential reward is twice the potential loss on the trade. The chart below shows a long EURUSD traded with a 1: 2 risk/reward ratio. The trade opened at 1.12698 with a stop at 1.12598 (10 pips) and a limit at 1.12898 (20 pips). An effective indicator for determining stop levels and limits in Forex is the Average True Range (ATR), which uses market volatility to determine entry and exit points.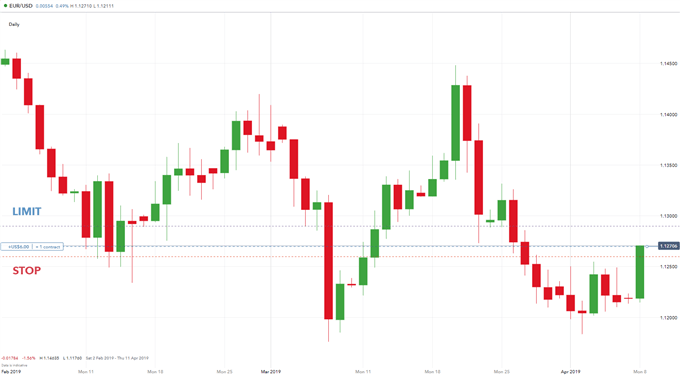 Having a ratio helps to manage the expectations of traders, this is important because, after much research, mismanagement of risk turned out to be the number one mistake that traders make.
ERROR 6: TRADING IN EMOTION
Emotional trading often leads to irrational and unsuccessful trading. Traders often open additional positions after losing trades to compensate for the previous loss. Trading plans exist to avoid this type of trading, so it is imperative that the plan is strictly followed.
ERROR 7: FIXED TRADING SIZE
Trade size is critical to every trading strategy. Many traders are trading in the wrong size in relation to their account size. The risk then increases and could potentially erase account balances. It is recommended to risk a maximum of 2% of the total account size. For example, if the account has $ 10,000, then a maximum of $ 200 of risk is offered per trade. If traders abide by this general rule, the pressure of over-exposure of the account will be relieved. The inherent risk of over-billing in a particular market is extremely dangerous.
ERROR 8: TRADING IN MULTIPLE MARKETS
Trading in multiple markets allows traders to gain the necessary experience to master the skills of working in these markets without affecting only a few markets. Many novice forex traders try to trade multiple markets unsuccessfully due to misunderstandings. This is what should be done on a demo account if necessary. Noise trading (irrational trading) often forces traders to place trades without proper fundamental/technical justification in different markets. For example, the Bitcoin craze in 2018 got a lot of traders at the wrong time. Unfortunately, many traders entered the "FOMO or Euphoria" stage of the market cycle, resulting in significant losses.
ERROR 9: REFUSAL TO VIEW TRADE LOG
Frequent use of the trade journal will enable traders to identify possible strategic flaws along with successful aspects. This will improve traders' general understanding of the market and strategies for the future. Analysis of transactions allows you to identify not only errors but also useful aspects that need to be constantly strengthened.
ERROR 10: SELECTING THE WRONG BROKER
There are many CFD brokers around the world, so choosing the right one can be difficult. Financial stability and proper regulation are important before opening an account with a broker. This information should be readily available on the broker's website. Many brokers are regulated in countries with lax guidelines to circumvent the rules of stricter jurisdictions such as the US (Mercantile Exchange Act) and the UK (FCA).
Safety is our top priority; however, a user-friendly platform and ease of execution are also critical when choosing a broker.
FOREX TRADING ERRORS: SUMMARY
Before engaging in any form of live trading, it is important to have the correct foundation for Forex trading. Taking the time to understand the Do's and Don'ts in Forex trading will benefit traders in the future. All traders end up making mistakes but minimizing them as well as eliminating repeated violations must be practiced and become expected behavior. The main purpose of this article is to adhere to a trading plan with proper risk management and a suitable verification system.